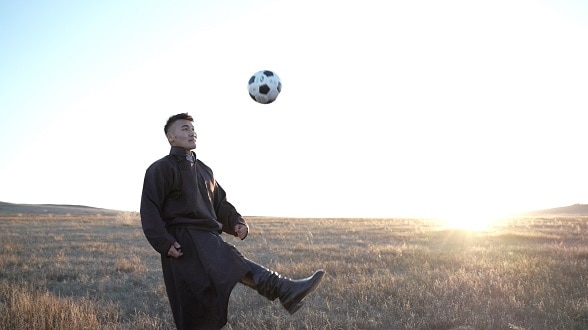 Herders bring their yak leather to cooperatives to check quality and traceability. Once the leather is registered, cooperatives organize sales to processing plants. After going through four stages of processing, the leather is ready to be used to make footballs.  
Khanaan Nutag produces hand-sewn footballs from yak leather for their ZEV brand. The start-up is working mostly with young talent in the production process, some of them living with disabilities, and provides access to training. ZEV was initiated and supported by the Green Gold Animal Health project of the Swiss Agency for Development and Cooperation.
The Green Gold Animal Health project was carried out for over 17 years and successfully concluded last year. The project helped improve the livelihoods of more than 90,000 nomadic herder households in Mongolia and rehabilitated over 20 million hectares of overgrazed rangeland. Better animal health has also contributed to the output of higher quality products, including wool, leather, and meat, and the development of professional marketing.
The ZEV football is made out of yak leather and has an authentic leather feel. The leather used to make the balls is sustainably produced by Mongolian herders and certified by the Responsible Nomads brand. This brand provides consumers with traceability guarantees that products have their origin in the sustainable use of rangelands, the safeguarding of animal welfare, and the direct participation of nomadic herder households.
Through the Responsible Nomads system, customers can scan a QR code on a product label to obtain background information, such as information about the herders who produced the item, rangeland conditions, veterinary services, and animal welfare.
Today the traceable yak leather football is now flying around the world, promoting Mongolia's rangelands, nomadic lifestyle, traditions, and culture. The football was presented to Her Royal Highness Princess Reem Bint Abdullah Bin Mosaad of Dubai by Mr. Vittorio Cammarota, Head of Communications of the International Trade Center Geneva, as an example of a traceable, sustainable, and innovative product.
You can order your own yak leather football from here.