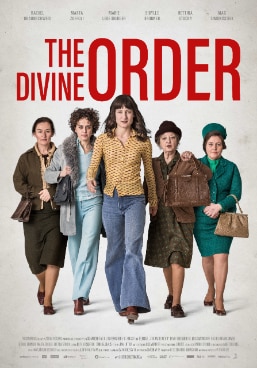 The Embassy of Switzerland will be participating in the 19th European Union Film Festival (EUFF), which is an annual event with the Golden Screen Cinema (GSC) which showcases a collection of films from Europe. The EUFF will be held in Kuala Lumpur from 18th - 28th October, in Penang from 1st - 7th November, in Johor Bahru from 15th - 18th November, in Kuching from 22nd - 28th November and in Kota Kinabalu from 6th - 12th December 2018 respectively.
This year, Switzerland will be showcasing a Comedy/Drama titled 'The Divine Order' (Die Göttliche Ordnung) directed by Petra Volpe. The screenings will be on:
21 Oct (Sunday) @ 12.30 pm at GSC Pavilion Kuala Lumpur
22 Oct (Monday) @ 9.10 pm at GSC Mid Valley Kuala Lumpur
06 Nov (Tuesday) @ 5.00 pm at GSC Gurney Plaza Penang
17 Nov (Saturday) @ 6.45 pm at GSC Paradigm Johor Bahru
22 Nov (Thursday) @ 9.25 pm at GSC City One Megamall Kuching
11 Dec (Tuesday) @ 7.00 pm at GSC Suria Kota Kinabalu
Synopsis:
Nora is young housewife and mother, living in a quaint village with her husband and their two sons. The Swiss countryside is untouched by the major social upheavals that the movements of 1968 have brought about in the cities. Nora's life is similarly unaffected; she is a quiet person who is liked by everybody, until she starts to publicly fight for women's suffrage, which the men are due to vote on in a ballot on February 7, 1971.
For more information about EUFF 2018 and it's schedule, please visit the following links: EUFF.com or Facebook/myeuff