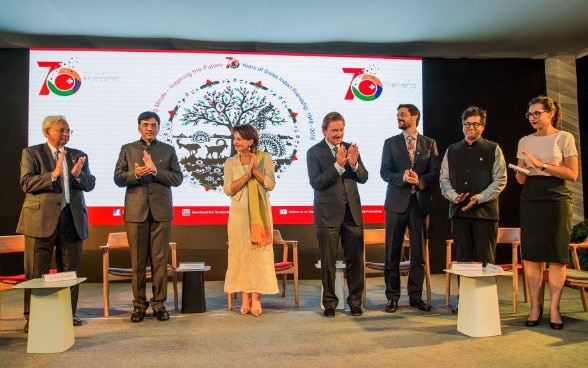 On the occasion of the State Visit to India by Swiss President H.E. Mrs. Doris Leuthard, five "Friendship Ambassadors" from Switzerland and India were honored during a reception for contributing innovative ideas in their fields, and for strengthening the Swiss-Indian relationship. This "Friendship Reception" at the Embassy of Switzerland marked the official launch of the biennial initiative "70 Years of Swiss-Indian Friendship: Connecting Minds - Inspiring the Future" initiative - a series of events to commemorate the  Swiss-Indian Friendship Treaty signed on August 14, 1948. 
In her address, President Leuthard highlighting the dynamic bilateral relations between Switzerland and India said: "Looking at our two countries, you will see thousands of people who over almost seven decades have knitted the fabric which holds together Swiss and Indian relations. We want to celebrate these seven decades with you." 
The honored Swiss and Indian "Friendship Ambassadors" come from the field of food security, trade and business, urban design and architecture, start-ups and entrepreneurship. They have all contributed substantially to furthering Swiss-Indian relations.
Prof. M.S. Swaminathan, the father of the Indian "Green Revolution" and a close collaborator of the Swiss Development Cooperation, on food security and climate change since the 1970s. 
Mr. Sushil K. Premchand, Chairman of the PRS Group, former President of the Swiss-Indian Chamber of Commerce and strong pillar of the Indo-Swiss Business Community.  The cause of small and medium size companies is in the center of his attention. 
Mrs. Barbara Maim, CEO and co-founder of the Swiss startup Minsh, a community messaging system and private social network, woman entrepreneur in Bangalore. 
Mr. Matias Echanove & Mr. Rahul Srivastava, co-founders of the urbz platform in Mumbai and Geneva. They joined forces in 2006 to engage in projects involving architecture, design, planning, anthropology, pedagogy and technology.
Congratulating the "Friendship Ambassadors", Swiss Ambassador Dr. Andreas Baum expressed: "Our friendship is built on common values: strong traditions of democracy and pluralism. Our friendship is also built on common interests. This is why our small innovative country in the center of Europe is a perfect match for this booming, emerging superpower. And our friendship is built on passionate people: we are proud to honor some of them as true Friendship Ambassadors."
In his acceptance speech, Prof. M.S. Swaminathan, commenting on the binding factors between Switzerland and India said:  
 "The most important is: we should have peace and nonviolence; nonviolence to nature and nonviolence to each other. This is basic for development. Sustainable development goals can be a common binding factor between India and Switzerland."
Mr. Sushil K. Premchand, focused on the SME sector during his speech and expressed: "Switzerland is a global leader in innovation and technology, and the Swiss SME sector is an essential contributor. Although most major Swiss businesses have been present successfully in India for a long time, the SME sector is inadequately represented. The primary mutual opportunity for Swiss-Indian business development rests between these SMEs and medium-sized Indian companies. More Swiss SMEs need to better recognise the potential of, and opportunities in India – and this State Visit to India will hopefully accelerate this process."
Architects Mr. Matias Echanove & Mr. Rahul Srivastava shared how moving between Switzerland and India influences their work as urban planners:
Matias Echanove said: "We feel that by moving from one to the other place, and with a team which itself is moving back and forth, we get inspiration from both places which makes it much richer." Rahul Srivastava added: "Every active circulation adds to our work experience. We go back to Geneva with something new and we come back to Mumbai with something new. This circulation is something which we value and cherish a lot."
Mrs. Barbara Maim, CEO and co-founder of the Swiss startup Minsh, speaking on work cultures in India and Switzerland said: "Working in Switzerland is like working inside a bubble. It's safe and comfortable, but at the same time it is difficult to get out of that bubble. Working in India is like popping that bubble, suddenly there is no safety net. However, there is infinity of opportunities."
About the initiative "70 Years of Swiss-Indian Friendship: Connecting Minds - Inspiring the Future 2017-2018"
The biennial initiative "70 Years of Swiss-Indian Friendship: Connecting Minds - Inspiring the Future 2017-2018" (SIF70) celebrates the 70th anniversary of the Treaty of Friendship between Switzerland and India, signed in 1948, with a series of public events. In business, research and technology, as well as in politics, culture and international cooperation, we bring together people from India and Switzerland who are innovators in their fields. Events and activities will take place in cities across India and in Switzerland.
The "70 Years of Swiss-Indian Friendship" initiative is designed and organized by the Embassy of Switzerland in India, swissnex India and the Consulate General in Bangalore, the Consulate General in Mumbai, the Swiss Business Hub India, Pro Helvetia – Swiss Arts Council, and Switzerland Tourism in India.
The scope and reach of this series of events has only been made possible through the generous support of Swiss and Indian companies. Over 30 companies have confirmed their commitment and contribution to the initiative.
For more information, please contact:
Christina Omlin, Public Diplomacy Officer, +91 4995 9500 ext. 850 022