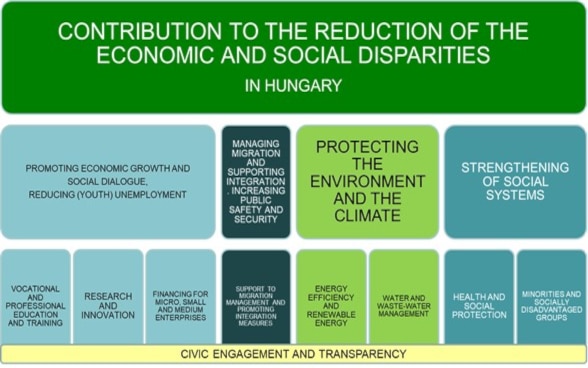 The Swiss-Hungarian Cooperation Programme aims at reducing economic and social disparities in Hungary. It will provide support in the form of thematic programmes and projects, in eight different fields. Most measures will be implemented in cooperation with non-governmental organizations and several schemes will involve Swiss partner organizations.
The signing of the Framework Agreement was an important milestone in the long tradition of cooperation between Switzerland and Hungary. The agreement sets out the aim, scope, form and use of the contribution as well as the most important provisions on implementation.
The Annex of the Framework Agreement called the 'Country-Specific Set-Up' presents the thematic and geographical allocations of the Contribution and specific rules agreed between Switzerland and Hungary as well as the attribution of responsibilities and tasks to entities involved in the implementation of the Swiss-Hungarian Cooperation Programme and in the Support Measures.

Framework Agreement CH-HU and Annex 'Country-Specific Set-Up' (PDF, 23 Pages, 725.9 kB, English)