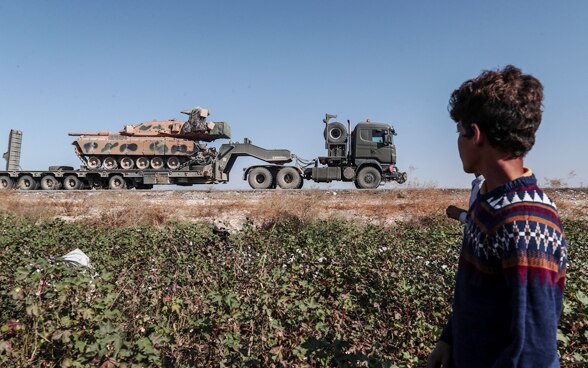 Switzerland views military intervention as inapt to resolve conflicts or mitigate security concerns. It therefore calls on the parties to use all of the diplomatic means at their disposal. Only a political solution as part of the UN-led peace process in Geneva has the potential to address the causes of the conflict. Switzerland therefore actively supports the efforts of the UN Special Envoy for Syria to convene a Syrian constitutional committee in Geneva. The Federal Council is monitoring the developments closely and is in contact with international partners.
Switzerland is very concerned about the humanitarian consequences of the intervention, in particular with regard to protection of the civilian population. The humanitarian situation, especially the situation of those displaced, is precarious and has deteriorated considerably as a result of the renewed military action. More than 210,000 people have fled northeastern Syria. The capacities of humanitarian organisations have diminished following the recent developments, including the worsening security situation.
The protection of civilians, humanitarian workers and civilian infrastructures must imperatively be respected and guaranteed by all parties to the conflict. Immediate, unhindered, long-term access to humanitarian aid for those in need must be secured at all times.
To facilitate humanitarian aid, the Federal Council has decided to adjust some of its sanctions against Syria. In so doing, it aims on an exceptional basis to allow both the humanitarian actors which receive funding from the Swiss Confederation and the Swiss diplomatic and consular representations to undertake business relations with the sanctioned entities if that be necessary to enable them to fulfil their mandates in Syria.
The Federal Council plans an exemption regime authorising such actors to make available financial resources to persons, companies and entities subject to the sanctions, provided that these transactions are necessary to provide humanitarian aid or to support the civilian population. It must be demonstrated that there are no equivalent alternatives to the persons or companies under sanction.
The Federal Council announced its first sanctions against Syria on 18 May 2011, to mirror the measures against Syria adopted by the EU on 9 May of that year. The Federal Council then adjusted the ordinance on measures against Syria several times to reflect decisions by the EU. The updated ordinance enters into force on 15 November 2019.
Switzerland is working throughout Syria across conflict lines, and remains in contact with its humanitarian partners on the ground. Since 2011, Switzerland has provided over CHF 430 million to the suffering populations in Syria and its neighbouring countries, in its biggest humanitarian undertaking to date.
---
Verordnung(pdf, 302kb)
Ordonnance(pdf, 365kb)
Ordinanza(pdf, 362kb)

---
Address for enquiries:
André Simonazzi
Federal Council Spokesperson
Tel. +41 58 462 37 03
andre.simonazzi@bk.admin.ch

GS-EAER Communication
info@gs-wbf.admin.ch
Tel. +41 58 462 20 07
---
Publisher:
The Federal Council
Federal Department of Economic Affairs, Education and Research
Federal Department of Foreign Affairs