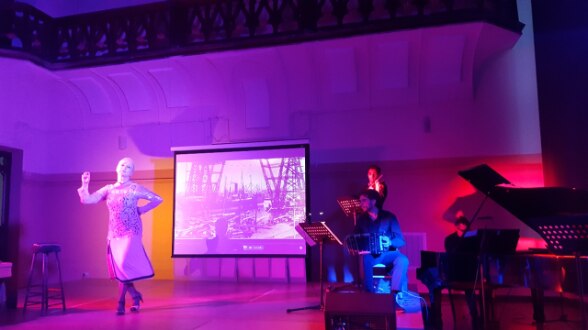 Since 2013, the Month of the German language has been celebrating in Georgia by the three Embassies of German, Austria and Switzerland with an aim to foster multilingualism and the spread of the German language through a diverse cultural program.
May 17, 2018 marked the opening of the Month of the German Language at the 6th authorised school. The Ambassador of Switzerland to Georgia, H.E. Lukas Beglinger along with H.E. Arad Benkö, Ambassador of Austria to Georgia, and H.E. Heike Peitsch, Ambassador of Germany to Georgia, opened the evening with welcome speeches and introduced the programme of the Month of the German Language 2018.
"Thanks to these joint activities, the month of the German language has become a tradition in Georgia and a symbol of the importance of the German language for the relations and multifaceted exchanges between our countries and Georgia – not only in the area of culture, but in many other important fields such as education, science, business, etc. These exchanges are mutually beneficial, and the solid position of the German language in Georgian schools and universities, which we endeavor to promote throughout the year, is a major asset for Georgia and its German-speaking partners. Cultural events and performances are not only attractive as such, they also convey ideas, perceptions and attitudes which stimulate dialogue and may promote change and reforms. For Georgia, which points its compass towards European culture and values, this kind of exchange is of great importance," Mr. Beglinger said.
On the occasion of the Month of the German Language, a group of artists from Switzerland arrived to Georgia to perform for the German-speaking community in Georgia. The music-theatre project "Abrazo - Tango of Survival" is about a poor, young Swiss girl who migrated to Buenos Aires in 1935. Through synchronized music, theatre and dance, the Swiss artist not only narrates the story of a girl and her struggle for survival, but also touches upon the issue of migration and the challenges related to it, which are also familiar to Georgia today.
"Almost 25,000 school children learn the German language, which helps to broaden the horizon for people, making it easier to find a profession. We have a very interesting program which we hope will raise interest amongst youth. We have great support from the Ministry of Education, and we thank all the other institutions who help us to promote the German language to the people of Georgia," the German Ambassador noted.
Until 17 June, 2018, mixed events including lectures, movie screenings and workshops will take place in various parts of Georgia, including Tbilisi, Telavi, Gori, Bolnisi, Zestaphoni and Kutaisi.