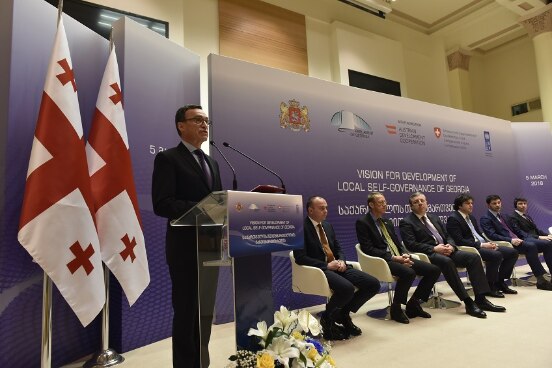 The Chairperson of the Parliament of Georgia Irakli Kobakhidze and the Prime Minister of Georgia Giorgi Kvirikashvili presented the new vision to the general public at the conference that took place at the Tbilisi Palace of the Parliament of Georgia.
Lukas Beglinger, Ambassador of Switzerland to Georgia, Arad Benkö, Ambassador of Austria, UNDP's Niels Scott and Kakha Kaladze, Mayor of Tbilisi, joined the Parliament Speaker and Prime Minister in their address to representatives of the Georgian Government, Parliament, civil society, diplomatic community and international organizations.
In his keynote speech, Irakli Kobakhidze, Speaker of the Parliament of Georgia, focused on the legislative changes that will follow the adoption of the new vision.   
"Fiscal decentralization and delegation of competencies will increase the local budgets, enabling local self-governments to effectively exercise their competences, raise professional standard of civil servants and offer wider and better services to citizens," Irakli Kobakhidze said.
Prime Minister Giorgi Kvirikashvili stressed that the new vision marks strategic shift to effective local self-governance and citizen participation in local decision-making.
"A wide range of competencies and resources will be transferred from the national to local authorities by 2025. This includes 7-8% of GDP which will be allocated to the municipal budgets. This substantial reform will equip local self-governments with powers, skills and resources necessary for resolving local economic and social issues," Kvirikashvili said.
"Since 2012, the Governments of Switzerland and Austria, in partnership with UNDP Georgia, have been supporting Georgia's efforts aimed at promoting decentra­­lization, advancing sustainable and participatory local and regional development, and strengthening the capacities of local, regional and national institutions in this field," said Lukas Beglinger, Swiss Ambassador to Georgia, in his opening remarks.
"Let me emphasize that Georgia can count on Switzerland's continued help in its endeavor to build up credible, competent, accountable, trans­parent and results-oriented local self-governments which are also able to effectively support local economic development. The Swiss Government has committed close to 4 million USD as an additional contribution to this process. We look forward to our continued cooperation with the Government, the Parliament of Georgia and all partners involved and hope for excellent results and outcomes!" he added.
As part of the ongoing regional and local development reform supported by the governments of Switzerland and Austria and implemented by UNDP in Georgia, the presentation of the national vision for decentralization and local self-governance will be followed by the development of the national strategy and action plan to be adopted by the Parliament of Georgia in 2018.