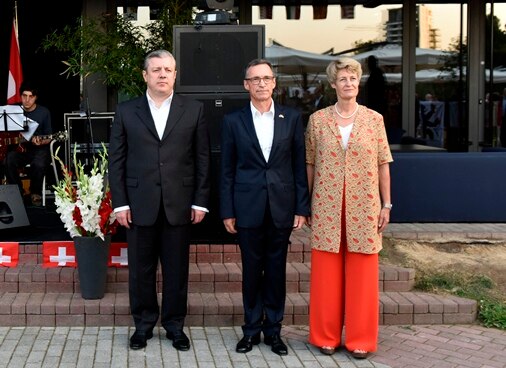 H.E. Lukas Beglinger, Ambassador of Switzerland to Georgia, and H.E. Giorgi Kvirikashvili, Prime Minister of Georgia addressed the guests expressing mutual gratitude and underpinning long-standing partnership between the two countries and Switzerland's support across various fields.     
"Today, we celebrate the 726th birthday of the Swiss Confederation. But this is also an occasion to celebrate 25 years of diplomatic relations between Switzerland and Georgia: 25 years of close and successful partnership, marked by mutual sympathy, respect and trust," Lukas Beglinger, Ambassador of Switzerland to Georgia said in his welcome speech. The Ambassador thanked the Georgian authorities, fellow citizens and international partners who, as he noted, "contributed in the past two and a half decades to developing Swiss-Georgian relations and supporting Georgia's way forward in its quest for democratic nation-building, rule of law, peace and prosperity".
The Ambassador went on to note that Switzerland stays committed to contributing to conflict transformation, reconciliation and peace-building in the South Caucasus region. Switzerland's cooperation program in Georgia is aimed at maintaining tangible results in promoting agricultural production, good governance and human security. The active contribution from Swiss companies and investors to Georgia's development in creating work places, establishing quality standards and providing trainings was also underlined by the Ambassador.
"Georgia is lucky to count Switzerland among it friends," the Prime Minister stated in his speech. Our partnership is growing stronger in all dimensions; covering political, economic, and cultural, and all other fields," the PM said, adding that Georgia is to host Doris Leuthard, President of the Swiss Confederation, in December this year.
"Like Switzerland, we would like to transform our country into a regional hub for doing business and attract global investments. I'm pleased to say that Georgia is already safely set on this track," Kvirikashvili said, adding that Switzerland has been "instrumental in promoting peaceful resolution of the conflict in Georgia".
According to the Prime Minister, in many ways Switzerland is a role model for Georgia. Switzerland, albeit a small land, is one of the most developed and prosperous states in the world. It is in Switzerland that one finds Zurich and Geneva, two of the major global financial capitals. This country is also an important hub for doing business.
Since 1991, following recognition of Georgia's independence, Switzerland has maintained successful diplomatic relations with it as an active partner, cooperating in economic, educational, cultural, research and innovation areas. Since 2008, Switzerland took on protecting power mandate for Georgia and Russia after the two countries discontinued diplomatic relations.