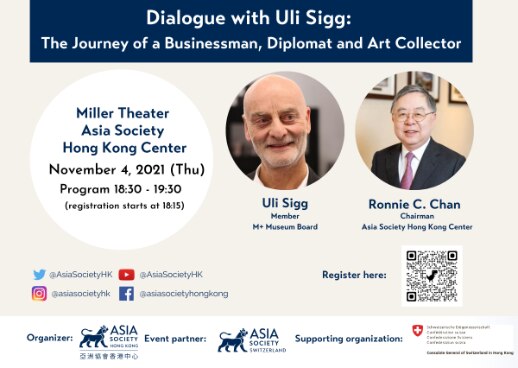 As the former Swiss Ambassador to China, Uli Sigg was first brought to China through business, and further extends his career paths in politics and art. His venture in Asia is no less fascinating than a world traveler, as he became a contemporary art collector, in which he has formed 2,500 works of Chinese art collection around the globe.
Art presents the voices behind the artists and a reflection of the cultures and the environment. Uli Sigg started collecting Chinese contemporary art in a systematic way, which allows him to promote Chinese art on an international stage, and to get the artists voices heard. In 2012, he donated 1450 works to M+ Museum for Visual Arts in Hong Kong, as it unveils another chapter of modern Chinese art. What are some key take-away in his journey as a businessman and diplomat? What is his vision for the future art scene?
Join us for a vivid conversation with Uli Sigg, Asia Society Switzerland Board Member, and Member of the M+ Museum Board, International Council of New York Modern Art Museum MOMA and International Advisory Council of Tate Gallery. The dialogue will be moderated by Ronnie C. Chan, Chairman of Asia Society Hong Kong Center.
Register here