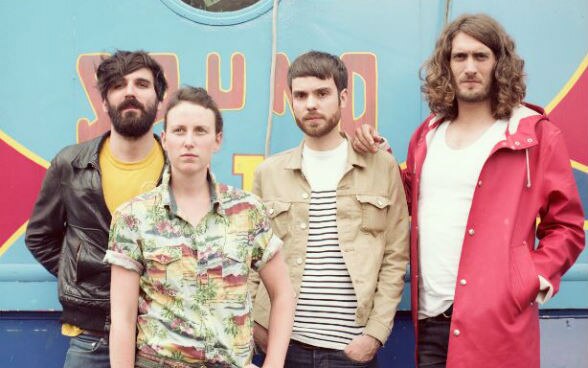 Inspired by Romain Gary's 1964 novel The Ski Bum (or Adieu, Gary Cooper in French), the rock band Adieu Gary Gooper has been invited by the Embassy of Switzerland to participate to the 8th edition of the French speaking music festival, Mars en Folie. Organized with the Alliance Française network, the embassies of Canada, Switzerland and Belgium as well as Wallonia-Brussels Delegation and Quebec government offices in China as a Part of the Fête de la Francophonie, Mars en Folie stages 4 bands which are soon going to stir up young Chinese music fans.
All lyrics of Adieu Gara Cooper are in French, they are uncompromising and poetic. The music is a mix of folk guitars and distorted guitars, backing vocals celebrating country music heros, blues and garage rock. It is a dreamy record, unique, fresh and new, between lullabies and dance music... They invoke the ghosts of French past music icons such as Serge Gainsbourg or Alain Bashung but also some immortal giant as The Velvet Underground or Harry Belafonte! It's groovy. It's mellow! Their first album Bleu Bizarre released in 2014 is a beautiful psychedelic quiet journey in the mood of the band. The slide guitar and hypnotic drumming with a strong vintage touch and inspiring lyrics invite us to keep on exploring this intimate musical experience. Simply said, it seems that the musicians of Adieu Gary Cooper are more at peace than others, unfazed by the surrounding hostility. Through their diluted verses, Adieu Gary Cooper exists and will soon come to China!
For concert schedule please check here.