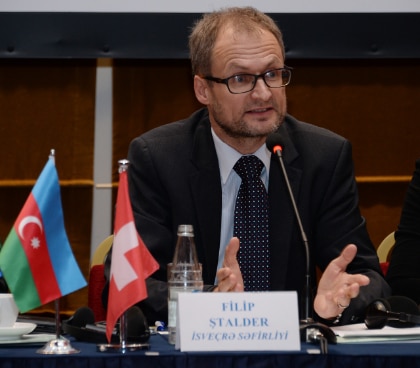 A research team of international and local experts studied and assessed the participation of women in the private sector in Azerbaijan, by analyzing obstacles and opportunities for both men and women to participate in private sector and formal employment. The report concludes with concrete recommendations on how to enable greater participation of women in the private sector. The project was funded by the Swiss government through the Swiss Agency for Development and Cooperation (SDC), and received also contributions from the two UN agencies.  
The Swiss Ambassador, Mr. Philipp Stalder, delivered a speech at the event. He shared his view with the public that gender inequality is one of the most persisting violations of human rights globally. He highly appreciated the findings and recommendations indicated in the report and referring to the assessment of the report, pointed out that like in many other countries also in Azerbaijan there are still many challenges for women's economic participation. "At the same time, there are opportunities that can and should be better used for promoting women's involvement in economic development. First of all, we observe that the government does a lot to improve the situation with business environment. This will definitely have a positive impact for women. Two new institutions (State Agency for Development of SMEs and Azerbaijan Women's Entrepreneurship Development Association) will hopefully contribute to an enhanced active participation of women in the Azerbaijani economy."
The goal of the Gender Assessment study is to examine the factors influencing women's participation in the private sector economy and to support the efforts of the national government, private sector actors and civil society organizations working to promote women's economic empowerment and economic participation including formal employment. Its objectives are to identify and analyze gender-specific barriers that hinder women in pursuing business opportunities, securing decent jobs and building successful careers in the private sector. Main hindering factor for women's economic participation are lack of time due to over-proportional unpaid domestic labor, lack of infrastructure, namely affordable kindergartens, negative perception of private sector, age and appearance based discrimination during recruitment processes as well as unequal pay and the fear of sexual harassment.