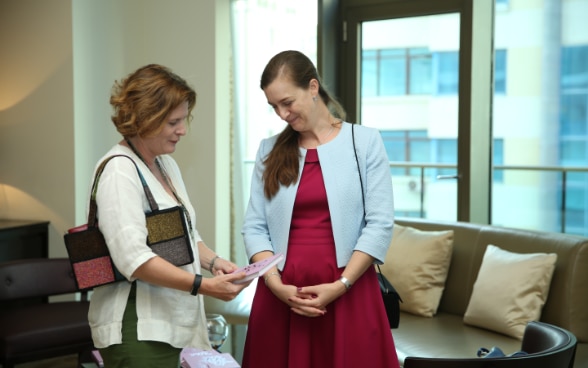 "101 Rules for Business Women" wants to reach a wide range of readers – from women who start businesses, who already have established businesses and all those who work at public offices, local and international organizations. This is the first book of that sort published in Azerbaijan and in Azerbaijani language. The handbook aims to help professional women to learn different aspects of business etiquette, ethics and balancing work and private life.
Swiss Ambassador Mr. Stalder opened the book presentation and said that the role of women is key to the development of any society. Moreover, gender equality is an important aspect of Sustainable Development Goals (SDG) which also include a specific goal on gender equality and women's empowerment. He stressed that women and men should have equal opportunities and access to education, jobs, as well as social and political activities. Therefore, Switzerland keeps a strong focus on contributing to this SDG in the world as well as in Azerbaijan. In Azerbaijan, Switzerland is active in supporting different women's empowerment projects, ranging from financial literacy and business planning to the production of this book, Mr. Stalder said.
In her speech, Ms. Shahla Ismayil, the founder and chair of the civil society organization WARD thanked the Swiss government for this important support for professional ladies. She said that her team would continue to work towards empowerment of women in the future.
One of the authors of the book also took the floor and spoke about his experience. He said it was a good opportunity to work with the editorial team and quite challenging to choose 101 rules out of so many potentially rules for business women. He expressed his wish that one day such a book could be written for businessmen as well, as he realized that there is no such guidance for businessmen available.
The speeches were followed by a casual networking event where representatives of the world of work, civil society, international organizations and embassies shared their views and experiences.
Copies of the book will be distributed to many libraries, business centers, to women's NGOs and entrepreneurs for free.