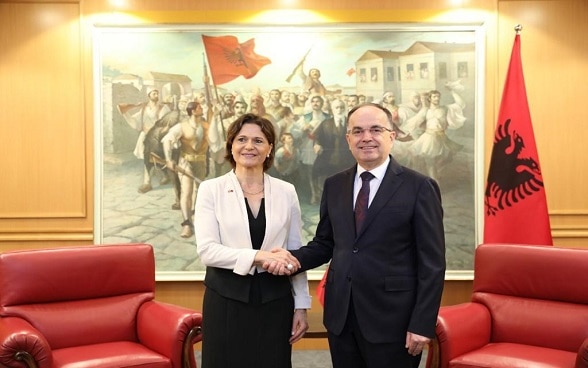 As of today Switzerland has a new ambasador in Albania: Ms. Ruth Huber presented her credentials to the President of Albania, Bajram Begaj.  
The President wished Ambassador Huber all the best on carrying out her diplomatic mission in Albania and expressed his confidence that thanks to her experience , the excellent relations between the two countries will progress even more, in all the fields of mutual interest. 
Specifically President Begaj, commended the valuable aid and contribution that Switzerland has provided to Albania in the last three decades in the social-economic development of the country, and expressed his conviction that continuing with the Swiss Cooperation Programme for Albania 2022-2025, institutional capacities will be consolidated further in both the central and local government. 
Ambassador Huber underlined that Switzerland continues to be a committed partner for Albania's development and looks forward to strengthening this partnership in both bilateral and multilateral platforms, including in the United Nations Security Council.