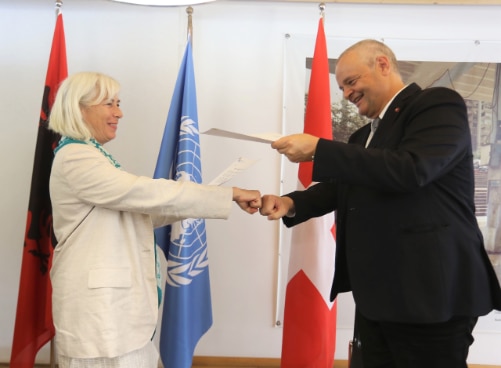 The Government of Switzerland and the United Nations sign the agreement on the 2nd phase of United Nations Joint Programme "Leave No One Behind' (LNB). Through the new agreement Switzerland supports the programme with 8 million Swiss francs for the period 2021-2025.
"Albania is making steps towards a social protection system that ensures that no one is left behind. Switzerland and UN partners encourage an effective social protection system and are supporting Albania in its efforts. The Covid-19 pandemic highlighted even more the need for strong social protection in order to have an adequate response for vulnerable groups. This new commitment will serve to continue our support to Albania's social care and social services  system", said Swiss Ambassador Adrian Maître.
"The mission of this project, gets into the heart of several Ssustainable Devlopment Goals while the programme's intention is to bring about systemic change in the area of social protection and social inclusion in Albania", said Ms. Fiona McCluney, UN Resident Coordinator in Albania.
The UN Resident Coordinator emphasised that  in the next phase,  focus will be given to the consolidation of the Social Care reform, working in close partnership with the central and local government, civil society, the latter an essential partner for the delivery and the achievement of the LNB programme goals.
In this phase of implementation the programme will continue to focus on vulnerable persons and groups to have improved access to public services that support their social inclusion, and well-being, and are empowered to have a voice in public policy decision-making affecting their lives, as well as hold decision-makers accountable for policy implementation.
The programme builts on the tangible results achieved in the first phase that positively affected the lives of vulnerable communities, demonstrating increased and more equitable investment in people, removing barriers, and creating opportunities for those at risk of exclusion.
The 'Leave No One Behind' programme supports the Government of Albania's efforts to improve the social services system in Albania and it is jointly implemented by four UN Agencies, UNDP in the lead, UNICEF, UNFPA, and UN Women in close partnership with the Ministry of Health and Social Protection and municipalities. The programme is part of Swiss cooperation programme with Albania in the area of governance and social inclusion.