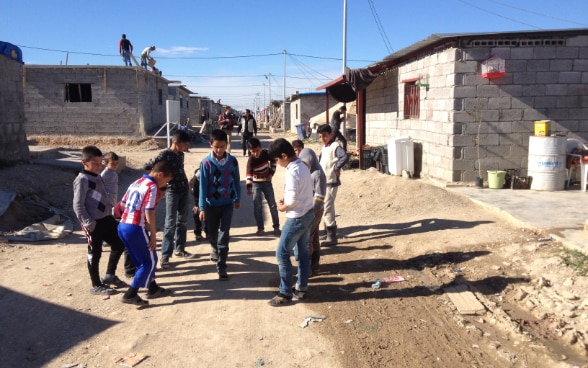 In Washington, Switzerland, represented by Deputy State Secretary Georges Martin, announced an additional contribution of CHF 1 million to assist the civilian population of Fallujah and the civilians who are fleeing the fighting in the Mosul region. The people of Iraq are paying a very heavy price, caught between clashing pro-government forces and the self-proclaimed 'Islamic State' group. The more than 85,000 people who have fled since May are unable to meet even their most basic needs. These internally displaced persons are in addition to some three million civilians who have fled their homes since the beginning of the crisis.
This new Swiss contribution will help strengthen protection activities and access to drinking water for displaced civilians in central Iraq. This sum of CHF 1 million is in addition to the CHF 9 million that have already been earmarked for Iraq in 2016. Since 2014, Switzerland has committed over CHF 34 to the humanitarian crisis in Iraq. This support helps finance the activities of the ICRC, UN agencies and international and Iraqi NGOs. In addition, the SDC makes experts from the Swiss Humanitarian Aid Unit (SHA) available to the UN. Three experts are currently working in Iraq to strengthen protection and drinking water assistance. In 2014, Switzerland carried out two operations to deliver 170 tonnes of winter relief supplies to internally displaced people in northern Iraq.
Switzerland calls on all parties to the conflict in Iraq to respect their obligations under international law, in particular international humanitarian law. Civilians and those who are no longer taking part in hostilities must be protected and treated with humanity.
Switzerland stresses the importance of investigating and prosecuting all perpetrators of serious violations of international humanitarian law and of human rights violations and abuses. Finally, Switzerland is convinced that only inclusive political decision-making institutions and mechanisms can lead to peace and stability in Iraq.
---
Address for enquiries:
Information FDFA
Bundeshaus West
CH-3003 Bern
Tel.: +41 58 462 31 53
Fax: +41 58 464 90 47
E-Mail: info@eda.admin.ch
---
Publisher: