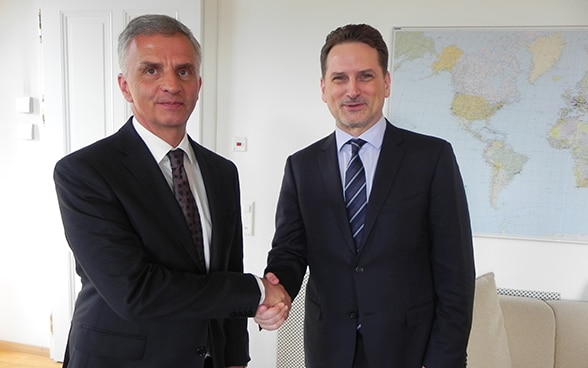 Mr Burkhalter received Mr Krähenbühl at the Federal Palace. They discussed the crises affecting the region and the plight of Palestinian refugees in Jordan, Lebanon, Syria and the occupied Palestinian territory. The importance of UNRWA's contribution to stability in the Middle East and the positive role the organisation plays in providing quality education to half a million children throughout the region was underscored.
Mr Krähenbühl thanked Switzerland for its funding and political backing, which he said was being used to strengthen the organisation – in particular by supporting UNRWA's reform processes aimed at optimising the effectiveness and quality of their services for refugees. He also described the current and future challenges facing the organisation.
Switzerland provides around CHF 20 million a year to UNRWA for the whole region. In June 2016, it will assume the chairmanship of the Advisory Commission, which is responsible for advising and assisting the Commissioner-General in implementing the organisation's mandate.
During his visit to Switzerland, Mr Krähenbühl was invited to speak before members of the Foreign Affairs Committee of the Council of States. He also met with State Secretary Yves Rossier, the Director-General of the Swiss Agency for Development and Cooperation (SDC), Manuel Sager, and Manuel Bessler, Humanitarian Aid Delegate and head of the Swiss Humanitarian Aid Unit, who will assume the chairmanship of the UNRWA Advisory Committee in June 2016.
Set up by the General Assembly of the United Nations (UN) in 1949, UNRWA's mission is to implement protection and assistance programmes for Palestinian refugees in the Middle East. In the absence of a just and lasting negotiated solution to the issue of Palestinian refugees, UNRWA provides basic services to more than 5 million refugees in Jordan, Lebanon, Syria and the occupied Palestinian territory, in particular in the areas of health, social services, education, microfinance and emergency aid.
Mr Krähenbühl was appointed head of UNRWA in March 2014. He is currently the highest ranking Swiss national in the United Nations system.
---
Further information:
UNRWA - United Nations Relief and Works Agency for Palestine Refugees in the Near East

---
Address for enquiries:
Information FDFA
Bundeshaus West
CH-3003 Bern
Tel.: +41 58 462 31 53
Fax: +41 58 464 90 47
E-Mail: info@eda.admin.ch
---
Publisher: