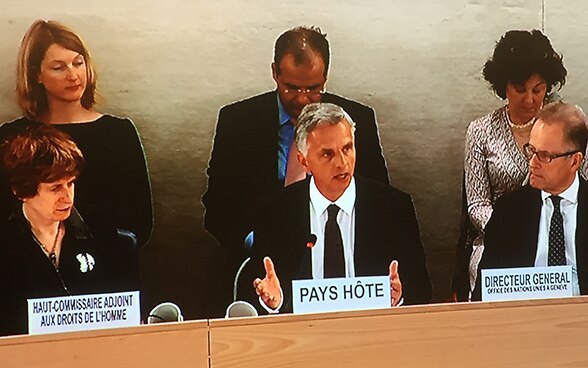 Against the backdrop of the Human Rights Council's 10th anniversary, Federal Councillor Didier Burkhalter, head of the Federal Department of Foreign Affairs (FDFA), has launched an international appeal to enhance conflict prevention. Speaking at the opening of the Council's June session, Mr Burkhalter said: "Security and human rights make a perfect match". The initiative, which is supported by all 10 countries that have provided presidents of the Human Rights Council since its inception and more than 50 other states, and is expected to be joined by even more countries, aims to strengthen the UN's preventive instruments through more systematic inclusion of human rights in security policy debates. Mr Burkhalter invited all UN member states to back the appeal. 
The appeal of 13 Junecalls on UN member states to enhance cooperation between UN bodies, primarily the Human Rights Council and Security Council. In particular, Human Rights Council members are urged to bring any information relevant to conflict prevention to the attention of the Security Council. Conversely, the appeal invites members of the Security Council to request regular briefings by the UN High Commissioner for Human Rights on specific human rights situations and to consult reports produced by the Human Rights Council and its mechanisms when making decisions. In addition, all UN member states are urged to put people and human rights at the heart of all their conflict prevention activities.
The Human Rights Council came into being almost exactly 10 years ago, Switzerland having been a committed advocate of its creation. Today's opening of the Council's 32nd session celebrates the anniversary. In the afternoon, the Deputy Secretary-General of the United Nations Jan Eliasson, the UN High Commissioner for Human Rights Zeid Ra'ad Al Hussein, the current and former presidents of the Human Rights Council together with civil society representatives will discuss the Council's achievements to date as well as its challenges and opportunities.
---
Further information:
Address by Federal Councillor Didier Burkhalter
Brochure: Switzerland, Candidate for the Human Rights Council 2016 –2018
Switzerland in the UN Human Rights Council
Appeal to enhance conflict prevention

---
Address for enquiries:
Information FDFA
Bundeshaus West
CH-3003 Bern
Tel.: +41 58 462 31 53
Fax: +41 58 464 90 47
E-Mail: info@eda.admin.ch
---
Publisher: